Autumn is a symphony of colours, a season that paints nature in hues of gold, orange, and red. As the landscape transforms, it's time for our wardrobes to resonate with this change. The floral print kurti emerges as the perfect attire to celebrate this season.
Take a look at these our best 5 Picks for the Autumn:
Light Pink Floral Printed Cotton Kurta: Embracing Soft Tones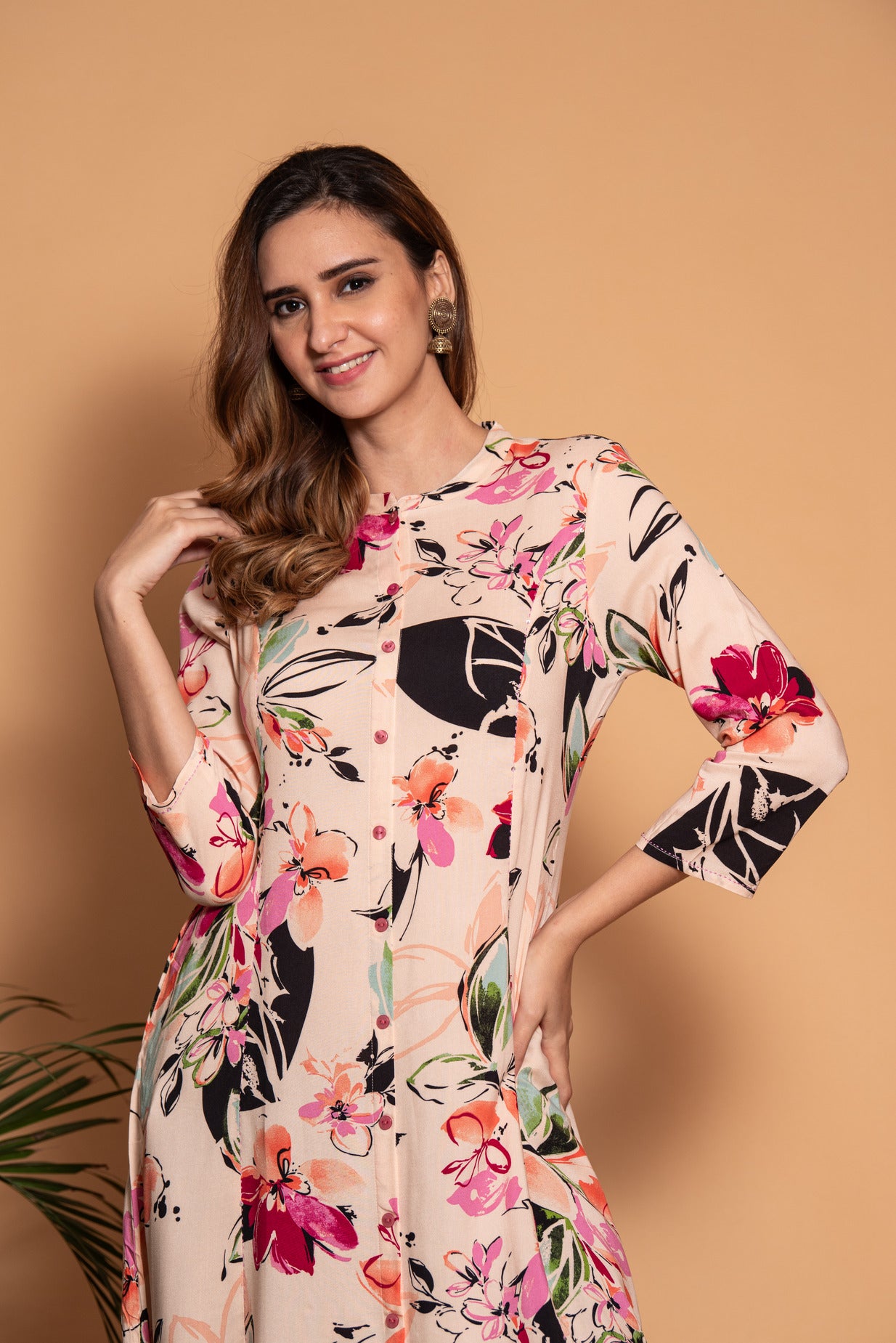 The Light Pink Floral Printed Cotton Kurta is a beautiful blend of subtlety and style. Its soft pink base, adorned with intricate floral patterns, captures the essence of the gentle autumn mornings. It's not just a piece of clothing; it's a piece of art that promises both comfort and elegance.
Pastel Yellow Floral Printed Simple Cotton Kurta: A Fresh Perspective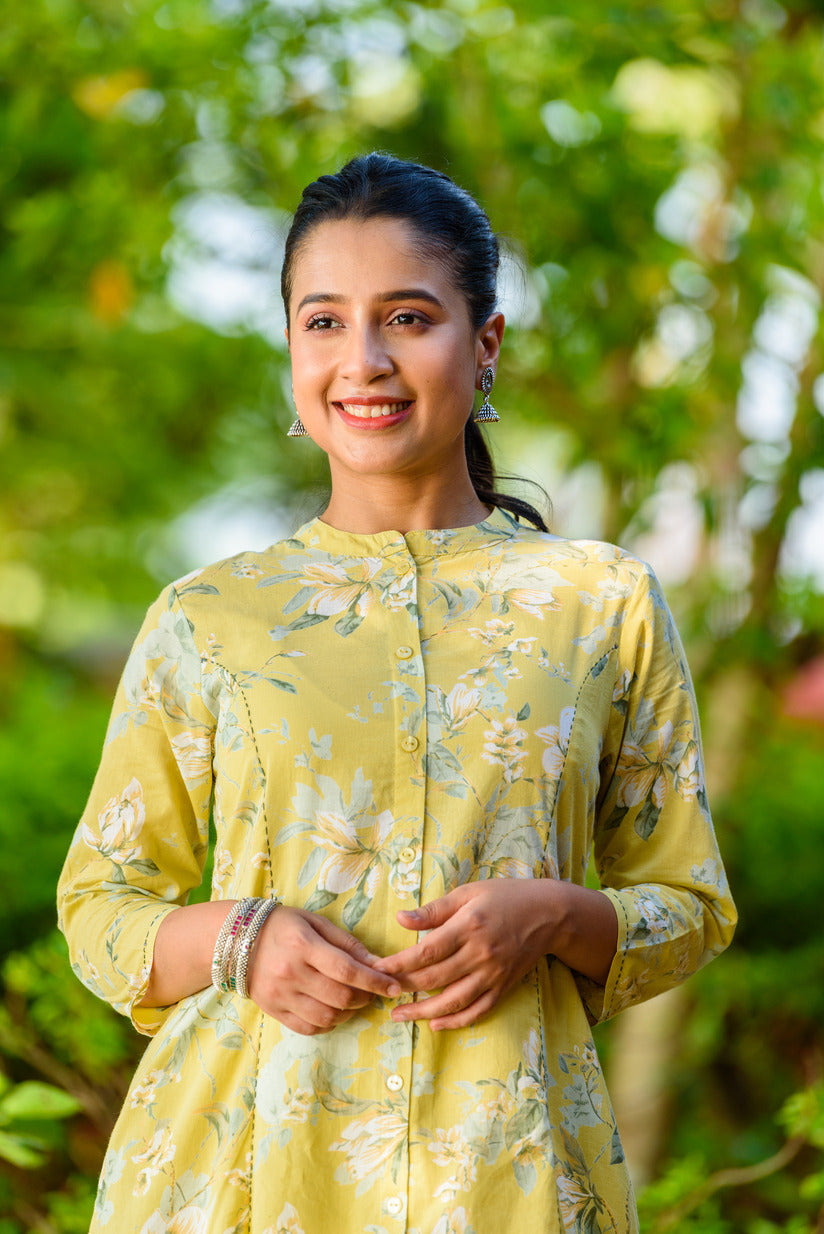 The Pastel Yellow Floral Printed Simple Cotton Kurta is like a breath of fresh air. Its pastel shade, combined with delicate floral designs, is reminiscent of the golden leaves that autumn brings. It's a versatile piece, perfect for both a day at work or a casual outing.
Orange With Pink Floral Printed Cotton Kurta: Celebrating Boldness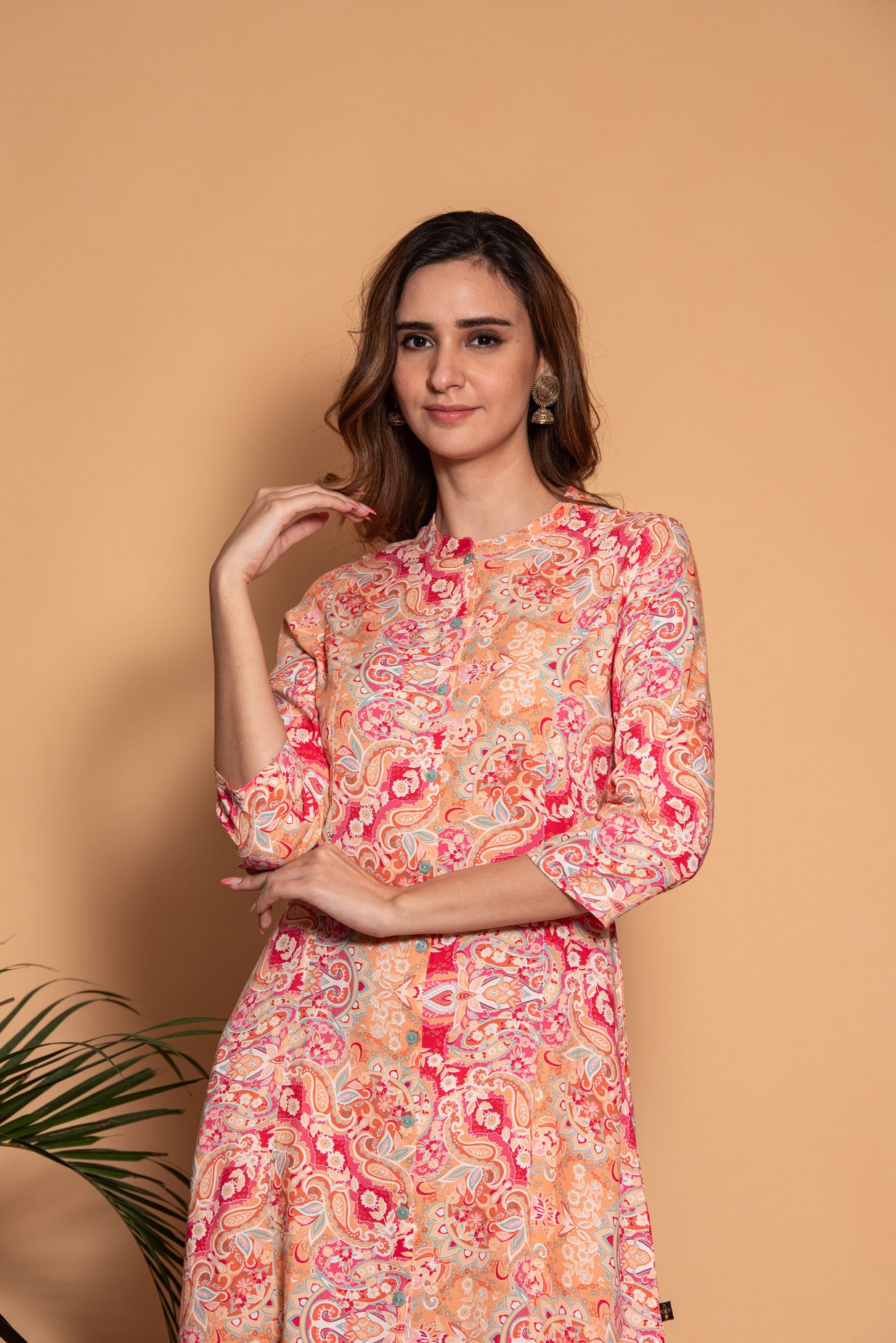 Autumn isn't just about muted tones. The Orange With Pink Floral Printed Cotton Kurta is a vibrant tribute to the season's bolder shades. Its striking orange base, highlighted by pink floral motifs, is a testament to the fiery sunsets of this season.
Blue Floral Embellished Cotton Kurta: The Calm of Autumn Evenings
The Blue Floral Embellished Cotton Kurta embodies the serenity of autumn evenings. Its soothing blue shade, paired with intricate floral embellishments, offers a calm and elegant look. It's a piece that seamlessly blends tradition with contemporary fashion.
Blue and Pink Floral Embellished Cotton Kurta: Tradition Meets Modernity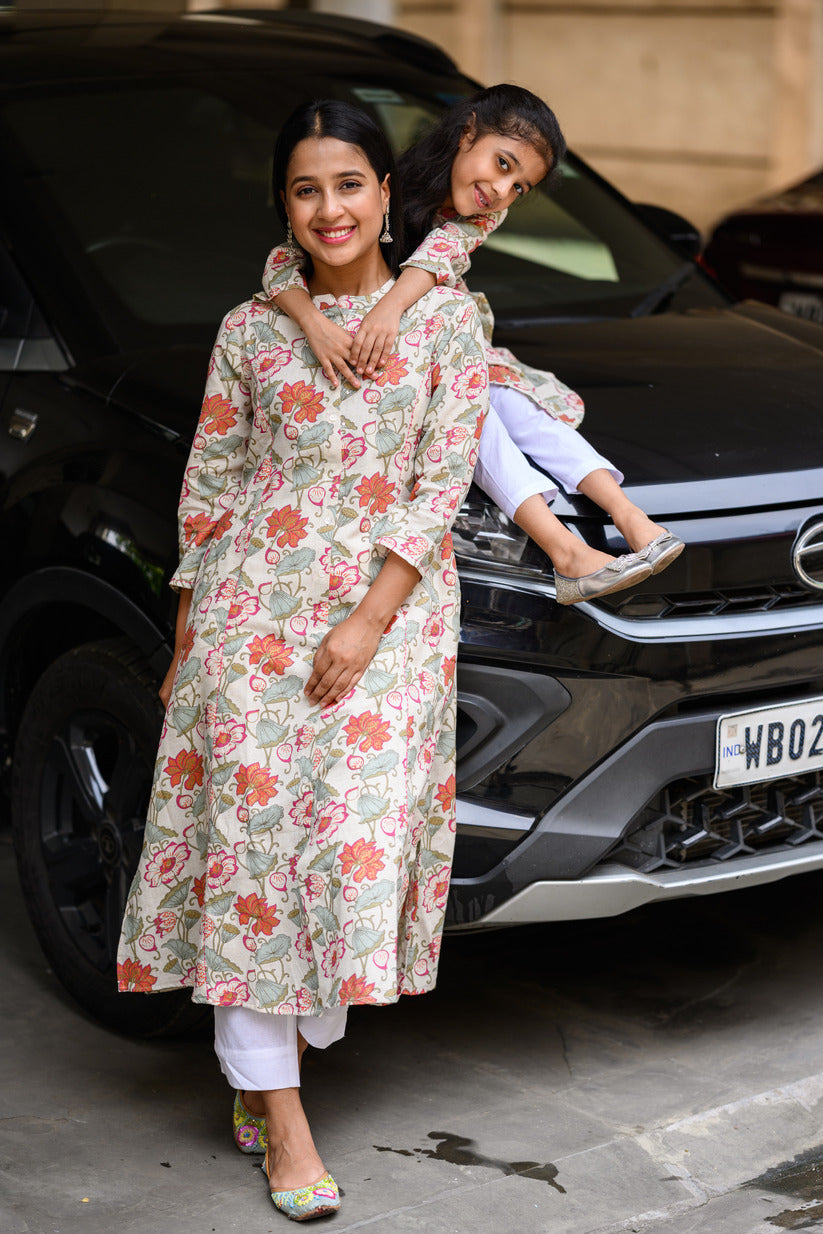 The Blue and Pink Floral Embellished Cotton Kurta is where the past meets the present. Its traditional floral patterns, set against a modern design, make it a favourite among women of all ages. It's a reflection of how autumn brings together the old and the new.

The beauty of floral patterns lies in their timeless appeal. They've graced garments for centuries, from the royal robes of ancient monarchs to the trendy outfits of today's fashion-forward individuals. The allure of floral, especially on kurtis, is its ability to bridge the gap between traditional and contemporary trends. It's a design that resonates with memories of our grandmother's classic attire, yet feels perfectly in place in a modern urban setting. In a world where fashion trends come and go, the floral motif remains an evergreen symbol of elegance and femininity.
Here is a bit on why Floral Kurtis:
The Rise of Floral Kurtis in Modern Fashion
Floral kurtis have carved a niche for themselves in contemporary fashion. Their blend of comfort, style, and tradition makes them a favourite among women worldwide. Whether it's a festive gathering, a casual day out, or a formal event, a floral kurti for women ensures you're always at your best. And with the convenience of buying floral kurti online, getting your hands on the latest designs has never been easier.
The Versatility of Floral Dresses for Women
Beyond kurtis, floral dresses for women have also gained immense popularity. They offer a global appeal, transcending borders and cultures. The charm of a floral dress lies in its versatility. Whether you're heading to a brunch, a beach, or a banquet, a floral dress is always a fitting choice. The patterns, ranging from subtle to bold, allow every woman to express her unique style.
Shopping Smart: Embracing the Digital Age
In today's fast-paced world, convenience is key. Why step out and hop from one store to another when you can explore a vast range of kurtis for women online? Digital platforms offer a plethora of options, ensuring you find exactly what you're looking for. Detailed descriptions, customer reviews, and easy return policies further enhance the online shopping experience. So, the next time you're looking to buy floral kurti, consider going digital.
Making a Statement with Floral Cotton Kurtis
Floral cotton kurtis are more than just clothing; they're a statement. They speak of a woman's love for nature, her sense of style, and her confidence. Cotton, with its breathable texture, ensures comfort, while the floral prints add a touch of elegance. It's a combination that promises to turn heads wherever you go.
Conclusion: Welcoming Autumn in Style
Autumn is a season of change, new beginnings, and celebrations. As the landscape around us transforms, it's time for our wardrobes to reflect this beauty. Floral printed cotton kurtis, with their blend of tradition and modernity, are the perfect attire to welcome this season. They ensure that as nature puts on a show, you're not far behind. So, embrace the colours, comfort, and charm of floral kurtis, and make this autumn a stylish affair.